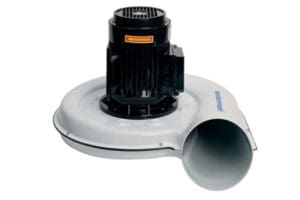 N-Series Fans
Nederman N series fans are a central component in Nederman's wide assortment of quality products for fume extraction and filtering as well as for vehicle exhaust extraction. Sound absorbers are available for all N-series fans. The fans are also suitable for mounting as freestanding fans.
Nederman's range of fans are available from 0.55 kW to 2.2 kW (0.75 Hp to 3 Hp), both single and three phase.
Contact Air Industries for further details and ordering info.
Technical data N-Series
All Models
Certifications
CE
All Models
Installation
Indoor, Outdoor
N10 3 Phase
Airflow (m3/h)
1250
N10 3 Phase
Noise level (dB(A))
Sound pressure level LpA is 59 dB at 1 000 m3/h
N16 Portable
Max Airflow (m3/h)
1200
N16 Portable
Noise level (dB(A))
62 dB(A) at 1000 m3/h
N16 3 Phase
Max Airflow (m3/h)
1250
N16 3 Phase
Noise level (dB(A))
62 at 1000 m3/h
N16 Single Phase
Max Airflow (m3/hr)
1250
N16 Single Phase
Noise level (dB(A))
62 at 1000 m3/h
N24 Portable
Max Airflow (m3/hr)
1500
N24 Portable
Noise level (dB(A))
61 at 1200 m3/h
N24 3 Phase
Max Airflow (m3/hr)
1500
N24 3 Phase
Noise level (dB(A))
61 at 1200 m3/h
N24 Single Phase
Max Airflow (m3/hr)
1500
N24 Single Phase
Noise level (dB(A))
61 at 1200 m3/h
N27 3 Phase
Max Airflow (m3/hr)
1950
N27 3 Phase
Noise level (dB(A))
–
N27 Single Phase
Max Airflow (m3/hr)
1400 (1,1kW), 1950 (1,5kW)
N27 Single Phase
Noise level (dB(A))
–
N40
Max Airflow (m3/hr)
2500 (1,5 kW), 4000 (2,2 kW)
N40
Noise level (dB(A))
70 at 2500 m3/h