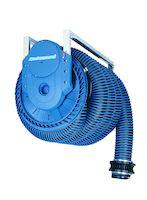 Exhaust Hose Reel 865
The best solution in workshops with a high ceiling, where overhead cranes etc. have to be considered, or where high vehicles must pass is Nederman's vehicle exhaust reel 865. Operated via a hand unit either an IR control or pendant control. A receiving eye on the reel shows the status of operation. Electronic limit switches reduce the risk of malfunction and unnecessary wearing of the hose. Fan start/stop is automatically controlled. Mounting of fan on reel is possible.
Contact Air Industries for further details and ordering info.
Features
Convenient and safe operation
Automatic fan operation
Settings for limit switches made from floor level
Compact, modern design
Quick & easy installation reduces cost