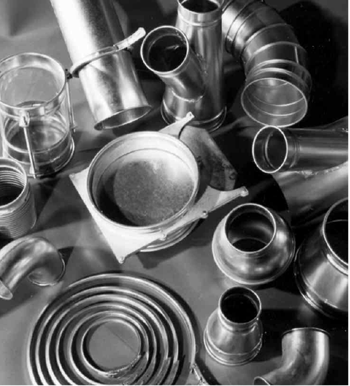 Easy Duct™
An Investment in your Future
Easy Duct™ clamp-together ducting eliminates rivets, screws, welds and other time-consuming and costly joining methods. The Easy Duct adjustable nipple also telescopes in length to eliminate the need for precise measurements and wasted parts due to improper measuring. Thanks to the patented Easy Duct design, straight piping, elbows and branch pieces clamp easily together in seconds and can be put together and taken apart with no special tools. That means you don't have to throw away your existing ducting each time you make a floor plan change.
Thanks to the Easy Duct clamp together design, installations, clean outs and changes take only a fraction of the time it takes for traditional ducting. That means reduced down-time for your operations.
Contact Air Industries for further details and ordering info.
Features
PIPE: Laser Welded Seam with Rolled Ends. 3" is Lock Formed. Connects quickly and easily with the QF clamp.
ADJUSTABLE NIPPLE WITH O-RING: Used to provide variable length adjustment of Easy Duct System. Black O-Ring included.
BRANCH: When ordering specify A, B, C. End Styles: Easy Duct (standard), Flanged, or Raw
ELBOWS-STANDARD RADIUS: Press Formed, 3-24 in. diameter available
ELBOWS-LONG RADIUS: Segmented, 3-24 in. diameter available
BLAST GATE: Shuts off airflow from machines not in use, improving suction elsewhere in the system and energy efficient.
REDUCER: Specify reducer end style. Available galvanized or stainless steel.
ROUTER HOOD: Designed specifically to collect dust from a router. Available with magnets. Edges are folded to inside for safety. Standard opening 6" x 12"
ACCESSORIES:

Pipe Hanger: Clearance hole 5/16". Bolt size 1/4" x 3/4". Bolt are supplied with hanger.
Pipe Bracing: Galvanized. Supplied in 10' lengths and not drilled or flattened. Cut to desired length – flatten ends – drill one end with 3/8" bit, connect this end to pipe hanger and clamp or bolt other end to suspension point
Clamp with Pin: Standard clamps come with Nitrile seals to help prevent leakage over multiple uses. Clamps with ePTFE seals available at additional charge.
Flexible Rubber Hose: Flexible rubber hose with steel coil. Hose clamps sold separately. "Clear" "FDA" hose is available upon request.
Rigid Flex-Steel Hose: Flexible rigid steel hose for higher temperature or abrasive material. Available in Galvanized or Stainless Steel.