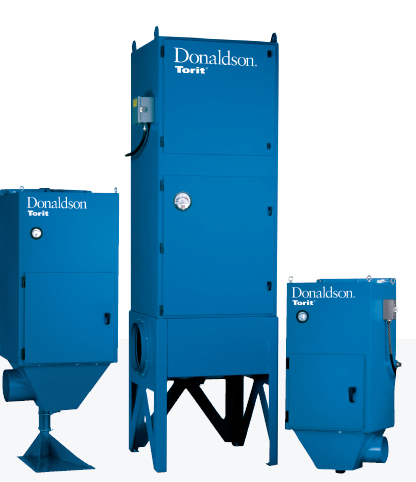 WSO Mist Collectors
Uncollected mist from industrial processes can cause slippery floors and collect on machines, walls, and ceilings, creating an unpleasant high-maintenance working environment. That's why Donaldson Torit developed a broad range of mist and smoke collectors to remove contaminants from the plant atmosphere.
The WSO mist collector with Donaldson's proprietary Synteq XP™ media provides high filtration efficiency, low pressure drop, and long filter life, in an easy maintenance package. The WSO design has several configurations such as machine mountable, stand mount, ducted cellular, and central system to meet your plant requirements. The WSO can be configured to collect water-soluble coolant, straight oil, or challenging oily smoke with a quick filter change.
Contact Air Industries for further details and ordering info.
When an industrial process produces mist, a Donaldson® Torit® mist collector can:
Provide cleaner air for workers
Reduce exposure to hazardous mist fluids
Aid compliance with indoor air quality standards
Reduce maintenance costs
Improve part quality
Provide protection for electronics
Aid in plant safety and housekeeping
The Only Mist Collector you Need.
3 in 1 solutions for mist applications
Advanced Synteq XP™ high efficiency media
Cross-flow design for better drainage
Easy to change cartridge filters
Energy savings
Continuous-duty design
Lower life cycle costs
Quiet operation
Configurations for machine mounting, floor stands, or ducted central systems
UL-approved electrical components
10-year warranty