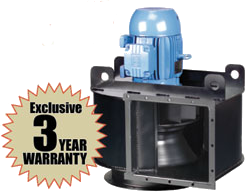 Design 64 PBI Fans
Packaged Backward Inclined Fans
Developed initially for the dust collector industry, Chicago's new Packaged Backward Inclined (PBI) fan is also ideal for an expanding range of applications, such as laser cutters, air filtration, and pneumatic conveying, up to 150°F. Chicago's PBI fan is also the perfect replacement for older, less reliable fans. The rugged PBI fan provides the performance you need and the reliability you want, backed by Chicago's 3-year warranty.
Contact Air Industries for further details and ordering info.
Features
New High Performance Wheel
Chicago has developed a new wheel for the PBI fan. The wheel uses heavy backward inclined steel blades for maximum performance in hostile environments. The PBI wheel, coupled with the streamlined inlet, virtually eliminates vibration and reduces noise levels dramatically.
Rugged Housing
Heavy gauge steel and added drive side support gussets contribute to extended vibration-free operation, critical for any installation. Continuous welding of housing assures air tight seams. The fan's support gussets have four built-in lifting eyes for easy balanced lifting.
Punched Flanged Outlet/Inlet
Equipped as standard, both the inlet and outlet are flanged and punched for easier installation. The outlet flange allows for bolting of ductwork, dampers, silencers or screens directly to the fan. An optional universal inlet flange that bolts to the equipment has a larger opening and larger diameter bolt circle.
C-Face Motor Mount
Allows C-face motors to mount directly to the fan housing, creating an airtight fit-up with no shaft seal. As the motor weight is also centered over the wheel, stability is improved when running in the vertical position.
Withstands Adverse Environments
Since some dust collector fans are installed outside the facility and subject to year-round environments, the C-face motor is bolted directly to the housing and caulked with adhesive sealant to provide weather-proofing and keep water out.
Available Options
Square Housing
The PBI fan is also available in the square housing pioneered by Chicago Blower. Housings have welded air-tight seams with all edges flanged for exceptional rigidity, thereby allowing the fan to be installed in any of four discharge positions.
Outlet Damper
Outlet dampers are often selected as a low cost option for varying the airflow. Dampers have punched flanges on both ends to simplify fan and duct connections. Opposed acting blades are standard with parallel blades available.
Alternate Widths
To reach more precise performance requirements, alternate widths from 100% to 40% are readily available. For other widths consult the factory.
Inlet/Outlet Screens
Welded steel screen mounts entirely within the inlet cone. Outlet screens are of expanded metal design and bolted to the outlet flange.
Access Door
A flush mounted rectangular access door is available for quick inspection and clean-out of material build-up. The door features quick opening tension clamps with neoprene gasket.
Drain
PBI fans can be furnished with a half coupling drain and plug to facilitate convenient and easy power washing.
Spark Resistant Construction
For spark resistant construction, AMCA Type C consists of aluminum inlet cone and buffer between wheel backplate and housing. AMCA Type B construction is also available.